Voice Link on Fire Island
Verizon is pushing to rid itself of landline service.Verizon officials have announced they will abandon their damaged wireline network serving several hundred permanent residents and businesses on Fire Island, replacing voice telephone service with a wireless system called Voice Link critics say will end high-speed Internet service and hurt business.

Fire Island's landline network has been barely functional since Hurricane Sandy struck last October. Verizon has yet to make significant repairs, leading to ongoing complaints from residents who live on the island year-round. Verizon's wish to eventually abandon its wired network facilities entirely has created concern among island officials and public safety agencies, noting the summer population on the island swells well into the thousands.

Verizon's plan may leave businesses unable to process credit card transactions and prevent residents from getting back DSL broadband service they lost during the storm, much less get it in the future. For some, it represents turning the clock back to the days before Internet access.

"Verizon has given us a dial tone basically," Ocean Beach Mayor James Mallott told Newsday. "But as far as DSL, ATMs, point-of-sale systems, all the rest of that stuff, we're pretty much on our own."

Fire Island resident Meg Wallace notes Verizon's plan has not gone unnoticed by the New York State Public Service Commission. The PSC is currently monitoring the situation and invites comments from interested parties.

"Right now, only Saltaire has filed a formal complaint with them, along with one village's fire official," Wallace reports. "It is easy to register a complaint either by filling out a complaint form on their website or calling the NYSPSC directly at (800) 342-3377. They are concerned about public opinion, so the more calls and formal complaints filed by both home and business owners the better."

Verizon officials have defended their decision, claiming a wireless system is more robust and can withstand severe weather better than a wired network. Another reality impacting the decision is the ongoing loss of landline customers. Verizon, the sole provider on the island, has lost 25 percent of its landline business in the last two years. The company claims 80 percent of Verizon-handled calls to and from the island are through Verizon Wireless.

Fire Island
Verizon told local officials that Cherry Grove and points east still have undamaged fiber optic and copper lines that should be able to work as usual this summer and will be left in place for now. On the west end of the island from Kismet to Sailor's Haven, the damage was more significant and Verizon has announced its intention to abandon wired service.
Although west end customers will be scheduled for Voice Link installations starting in April, those on the east side should not get too comfortable with their wired service because Verizon has announced it will not upgrade or make future significant repairs to its wired infrastructure going forward. When the remaining landline facilities eventually fail, affected customers will also be moved to Voice Link.
How It Works

Starting April 1st, customers calling with service problems on Fire Island will be redirected to special operators trained to pitch customers the Voice Link service as a replacement. These agents will also handle billing adjustments and drop phone package features Voice Link does not support. If the customer only wants phone service, Verizon will schedule an installation date for Voice Link. A technician will arrive with a wall-mounted box about 8″ high that will be installed in the room that provides the best reception from a nearby Verizon Wireless tower. The box will then be connected to your home telephone wiring and a nearby power outlet so existing telephones will work once again. The box has battery backup powered by customer-installed and maintained AA batteries.
If a customer also had broadband service with Verizon, they will not be getting it back. Instead, an agent will attempt to sell the customer a Verizon Wireless mobile broadband package at a significantly higher cost. For example, a 10GB monthly usage plan added to an existing Verizon Wireless account will cost an extra $20 a month for the "Mi-Fi" mobile hotspot device fee and $100 a month for the data package. Verizon DSL in comparison offered unlimited access for $30-50 a month, depending on the plan selected and any promotional discounts.
Verizon said it is currently improving reception of its 4G LTE network in areas worst-affected by storm damage.
Voice Link is a voice-only product. It does not support broadband, telephone modem connections, faxing, alarm monitoring, home medical monitoring, certain communications equipment for the impaired, or other data services including credit card processing. It does support E911, which gives detailed address information to a 911 operator.
Verizon's Voice Link also creates a problem for some satellite dish customers. Some satellite companies need a landline connection for handling pay-per-view orders. That data connection does not work with Voice Link either.
Your voice line bill will remain the same if you switch to Voice Link. But customers will lose the benefit of oversight from the Public Service Commission if things go wrong. Voice Link, unlike traditional landline service, is an unregulated service not subject to government oversight.
Voice Link: Coming Soon to Your Area?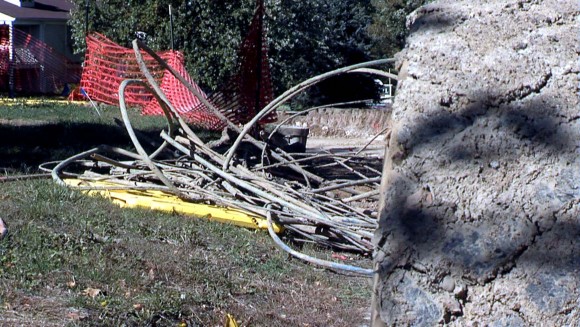 Verizon's Voice Link service is by no means intended to be used only on Fire Island.
Voice Link is being trialed in Florida (Project Thunder) as a landline replacement option for use in areas where Verizon's copper network has deteriorated and the company is unwilling to spend money on fiber upgrades. If successful, Verizon intends to switch a growing number of Verizon customers nationwide outside of FiOS fiber areas to the wireless service when they report trouble with their phone lines.
Local 824 of the International Brotherhood of Electrical Workers provided insight when one of their workers attended a training class and participated in a ride-along with Verizon technicians installing the service in Florida.
John Glye reports that Verizon considers a customer a candidate for Voice Link if they have chronic phone line problems and only want traditional voice telephone service.
Currently, if customers in Florida are persuaded to switch, a migration order is created. If they want to keep the service they have, a traditional copper trouble ticket will be created and repair crews will be dispatched.
The unit is about eight inches tall and has the following connections: