| | | |
| --- | --- | --- |
| Welcome | | You are not currently logged in. |
Organize Today!

Looking for more information on Organizing your workplace?
Click Here
Know Your Weingarten Rights!
If an employee has a reasonable belief that discipline or other adverse consequences may result from what he or she says, the employee has the right to request union representation. Management is not required to inform the employee of his/her Weingarten rights; it is the employees responsibility to know and request.
"If this discussion can in any way lead to me being disciplined, I respectfully request union representation before I answer any questions"
Protect yourself! Learn it, use it!
A Message From The President
The Executive Board welcomes all Communications Workers of America, AFL,CIO Local 1120 members to our web page. The purpose of this web page is to provide a means of supplying information about our local and labor issues. To all cwa local 1120 members. I want to thank all of my fellow union brothers and sisters for their commitment, and determination in keeping our local strong. Together we can overcome any challenge that we may face.
Frank J. Fauci Jr.
President, CWA Local 1120
Our labor unions are not narrow, self-seeking groups. They have raised wages, shortened hours and provided supplemental benefits. Through collective bargaining and grievance procedures, they have brought justice and democracy to the shop floor.
JOHN F. KENNEDY, speech, Aug. 30, 1960
| | | |
| --- | --- | --- |
| | | |
| | | |
| | | |
Two weeks ago, the Company approached CWA with a special incentive offer for certain members to leave the payroll.  This offer was identical to the offer that CWA rejected last year with a few exceptions.   Last year, the proposal was to make an offer to 4 titles in certain Force Adjustment Areas. Read More...
ELECTION NOTICE
*NOTICE OF CANDIDATES*
The Candidates for President are:
Frank Fauci - fauci4president@gmail.com
Chris Cafaldo - (518) 530-7417
The Candidates for Secretary-Treasurer are:
J.P Graham - (845)482-3872 / email- jpgraham_us@yahoo.com
John Zeolla - (845) 386-8039 / email- zeolla.1120@gmail.com
The Candidates for Fallsburg-Monticello Business Agent are:
William Decker - (914) 799-0348 / email- deckwill@gmail.com
Daved Delacruz - (845) 649-3713 / email- daved.delacruz@gmail.com
Rob Esposito - (914) 799-1230 / email- RESPOSito@hvc.rr.com
The Candidates for Executive Vice-President are:
Jim Gescheidle - jimg4evp@gmail.com
Luis Acosta - (845) 701-6007 / email- time2xcell@yahoo.com
The Candidates for Newburgh Business Agent are:
John Behler - john.behler@yahoo.com
Dave Cross - (845) 866-9781 / email - david.h.cross@verizon.net
Unopposed Candidates are:
Sean Wiser - Poughkeepsie BA
Carl Bertsche - Educational Units BA
Mike Lutfring – Kingston/Catskill BA
Polls Open on Nov. 5th, 12pm - 7pm
If you wish to request an absentee ballot, please call the Union Hall as soon as possible at 1-800-292-1120 or 845-485-7820. Absentee ballots are available for members who are on a scheduled vacation, scheduled to work a shift which makes it impossible for them to reach the polling location on the date of the election, are either hospitalized or non-ambulatory, or whose reporting location is outside the footprint of the Local. We will need to verify your current address to make sure our records are correct. When you receive the ballot in the mail, please read very carefully the directions that will be included, and return the ballot in the enclosed envelopes as soon as possible. Please note that if you request an absentee ballot, you will not be permitted to vote at a polling location.
ABSENTEE BALLOTS MUST ARRIVE AT THE HALL BY NOV 5th at 5pm.
FairPoint Workers in Maine, New Hampshire, and Vermont On Strike Unions Say Company Refuses to Compromise to Preserve Reliable Service and Good Jobs Augusta, ME—At 12:01 a.m. on Friday, October 17th, nearly 2,000 employees of FairPoint Communications (FRP) in northern New England went on strike. Read More...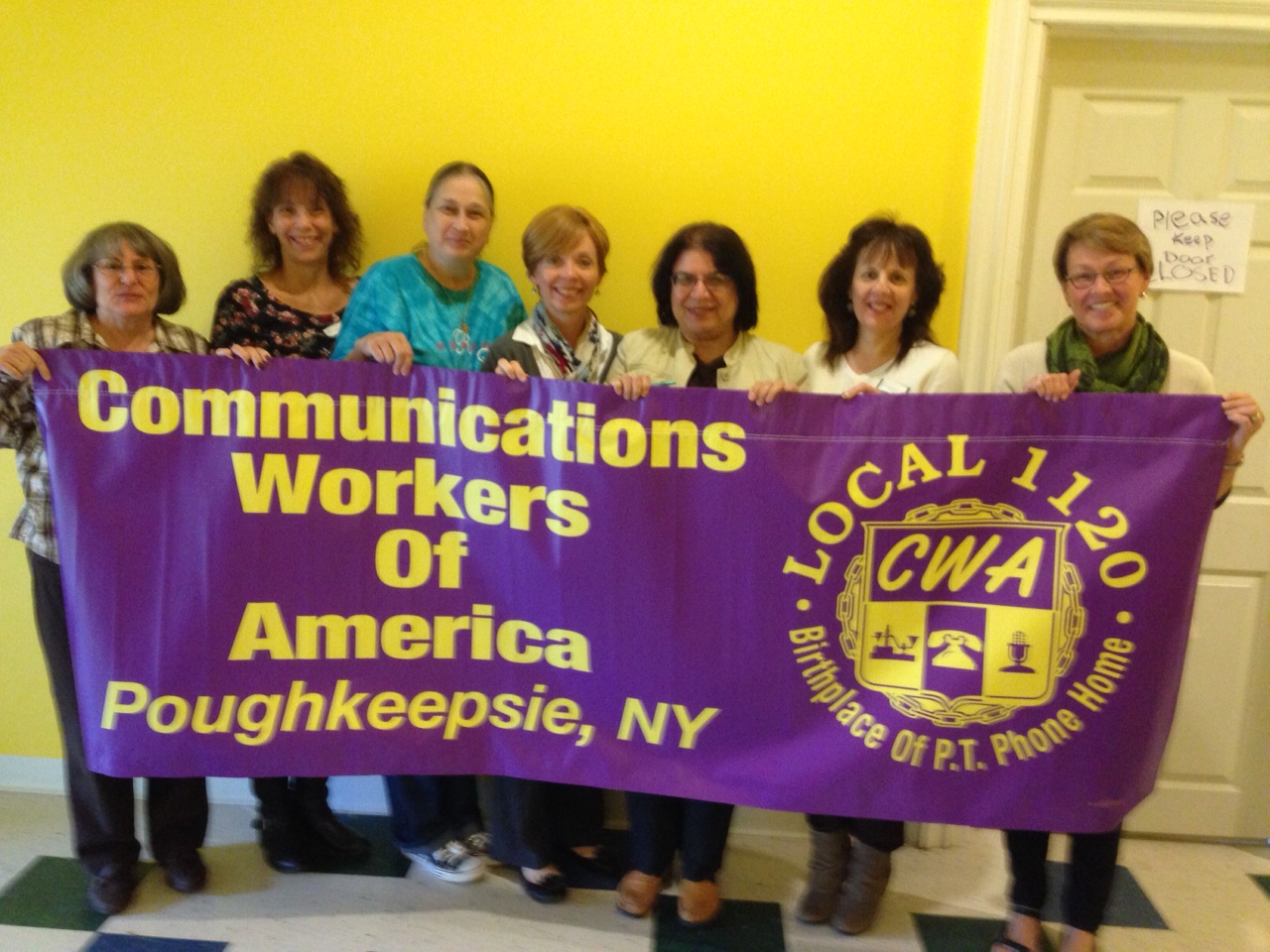 Please welcome our new members "The Monroe Free Library"
Their struggle for fair representation is not over. We will now begin bargaining their first union contract. Please visit the library and show your support to our union brothers and sisters.