| | | |
| --- | --- | --- |
| Welcome | | You are not currently logged in. |
Organize Today!

Looking for more information on Organizing your workplace?
Click Here
Know Your Weingarten Rights!
If an employee has a reasonable belief that discipline or other adverse consequences may result from what he or she says, the employee has the right to request union representation. Management is not required to inform the employee of his/her Weingarten rights; it is the employees responsibility to know and request.
"If this discussion can in any way lead to me being disciplined, I respectfully request union representation before I answer any questions"
Protect yourself! Learn it, use it!
A Message From The President
The Executive Board welcomes all Communications Workers of America, AFL,CIO Local 1120 members to our web page. The purpose of this web page is to provide a means of supplying information about our local and labor issues. To all cwa local 1120 members. I want to thank all of my fellow union brothers and sisters for their commitment, and determination in keeping our local strong. Together we can overcome any challenge that we may face.
Frank J. Fauci Jr.
President, CWA Local 1120
We must guard against being fooled by false slogans, such as 'right to work.' It is a law to rob us of our civil rights and job rights.
Its purpose is to destroy labor unions and the freedom of collective bargaining by which unions have improved wages and working conditions of everyone…Wherever these laws have been passed, wages are lower, job opportunities are fewer and there are no civil rights. We do not intend to let them do this to us. We demand this fraud be stopped. Our weapon is our vote."
Martin Luther King
| | | |
| --- | --- | --- |
| | | |
| | | |
| | | |
Regional Bargaining Report # 42
Tuesday, November 24, 2015
CWA District 1/IBEW Local 2213 and IBEW New England Regional Committees met this week at the Rye Town Hilton in Westchester. The committee spent most of Monday reviewing data and proposals. Later in the day there were off record discussions on Call Sharing.
On Tuesday the Union Committee presented another package proposal to Verizon. We informed the Company that in our bargaining sessions last week the Union made significant moves which the Company called "constructive". We made those proposals to ignite the bargaining process. In our package proposals, the Union addressed some of the areas that are most important to the Company but we did not see any movement on any of our important issues such as job security, pension improvements, contracting of work, call sharing and wages in the Company's proposals.
Verizon still has the following retrogressive proposals on the table:
•
Elimination of Job Security
•
Thousands of dollars in increased health care costs to actives and retirees
•
Forcing you to choose between a Defined Benefit pension that will be frozen at 30 years, or an enhanced 401(k) plan
•
Elimination of Accident Disability
•
Major changes to the Tuition Assistance Plan
We ended bargaining for the week by asking the Company to think about the Union's proposals andtold them if they want to reach an agreement with us they need to address the Unions proposals regarding all of our important issues and get their retrogressive proposals off of the table.
Bargaining is scheduled to resume next week in Rye, New York.
We wish all of our members and their families a Happy and safe Thanksgiving!
Please check with your local for Black Friday mobilization events near you.
KEEP UP THE FIGHT!
Mobilize! Mobilize! Mobilize!
Regional Bargaining Report # 41 Friday, November 20, 2015 CWA District 1/IBEW Local 2213 and IBEW New England Regional Committees met this week at the Rye Town Hilton in Westchester. Read More...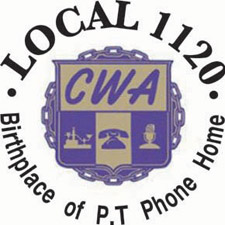 CWA
QUARTERLY
LOCAL MEETING
TUESDAY
NOVEMBER 17, 2015
6:00 P.M.
ITALIAN CENTER
MILL STREET
POUGHKEEPSIE, NY

CWA LOCAL 1103 CWA LOCAL 1120 CWA LOCAL 1107
Birthplace of
PT Phone Home
PLEASE JOIN US
THURSDAY – WEAR RED!
NOVEMBER 19, 2015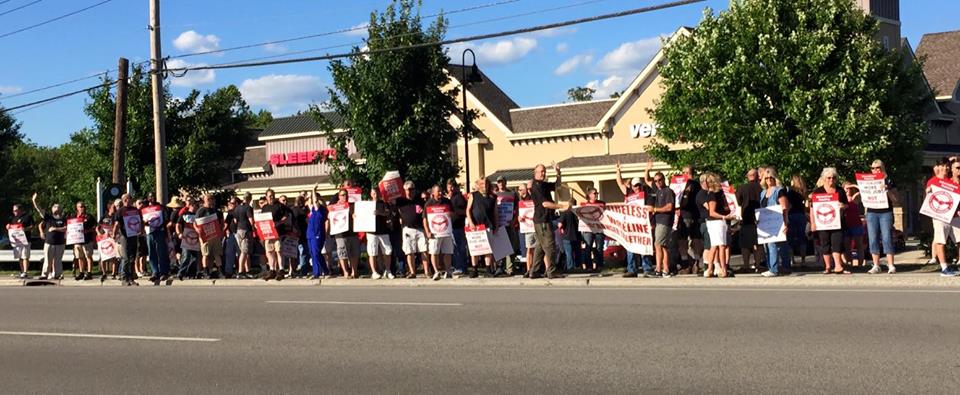 VERIZON WIRELESS STORE
ROUTE 9 / 11 MERRITT BLVD
(Just North of Exit 13 / I-84)
FISHKILL, NY
5:30 P.M.
WE'RE ASKING ALL MEMBERS
TO ATTEND - AS WE CONTINUE
TO FIGHT FOR A FAIR CONTRACT!
LET YOUR VOICE BE HEARD!!
WHAT PRESERVES THE AMERICAN MIDDLE CLASS?
GOOD AMERICAN UNION JOBS!
Regional Bargaining Report # 40     Friday, November 6, 2015   CWA District 1/IBEW Local 2213 and IBEW New England Regional Committees met this week at the Rye Town Hilton in Westchester. Read More...
ELECTION DAY IS NOVEMBER 3rd. MAKE YOUR VOICE HEARD AND VOTE!!
These are the CWA Local 1120 endorsed candidates. Please support those Candidates who support us.
| | |
| --- | --- |
| City of Beacon Councilman at Large: | George Mansfield |
| City of Beacon Councilman Ward 1: | Peggy Ross |
| City of Kingston Alderman at Large: | Jeanette Provesano |
| City of Kingston Mayor | Shayne Gallo |
| City of Newburgh Mayor: | Judy Kennedy |
| City of Poughkeepsie Common Council Ward 5 | Ann Perry |
| City of Poughkeepsie Common Council Ward 8 | J. Tracey Hermann |
| Dutchess County Legislatoe District 1: | Shari Gill |
| Dutchess County Legislator District 11: | Joel Tyner |
| Dutchess County Legislator District 14 | Francena Amparo |
| Dutchess County Legislator District 20 | Micki Strawinski |
| Dutchess County Legislator District 4 | Hannah R. Black |
| Dutchess County Legislator District 6 | Rita Langva |
| Dutchess County Legislator District 9 | Kari Rieser |
| Orange County Family Court Judge: | Christine F. Stage |
| Town of Blooming Grove Councilman: | Sonia Ayala |
| Town of Blooming Grove Supervisor: | Robert Fromaget |
| Town of Dover Highway Superintendent: | Joanne Mostachetti-Gorman |
| Town of Dover Supervisor: | Linda French |
| Town of Dover Town Council: | Jane Meunier-Gorma |
| Town of Montgomery Supervisor | Dennis Leahy |
| Town of New Windsor Councilman: | Kelly Allegra |
| Ulster County Executive: | Mike Hein |
| Ulster County Legislator District 18: | Rich Parate |
| Ulster County Legislator District 19: | Manna Jo Greene |
| Ulster County Legislator District 2: | Chris Allen |
| Ulster County Legislator District 22: | John Parate |