| | | |
| --- | --- | --- |
| Welcome | | You are not currently logged in. |
Organize Today!

Looking for more information on Organizing your workplace?
Click Here
Know Your Weingarten Rights!
If an employee has a reasonable belief that discipline or other adverse consequences may result from what he or she says, the employee has the right to request union representation. Management is not required to inform the employee of his/her Weingarten rights; it is the employees responsibility to know and request.
"If this discussion can in any way lead to me being disciplined, I respectfully request union representation before I answer any questions"
Protect yourself! Learn it, use it!
A Message From The President
The Executive Board welcomes all Communications Workers of America, AFL,CIO Local 1120 members to our web page. The purpose of this web page is to provide a means of supplying information about our local and labor issues. To all cwa local 1120 members. I want to thank all of my fellow union brothers and sisters for their commitment, and determination in keeping our local strong. Together we can overcome any challenge that we may face.
Frank J. Fauci Jr.
President, CWA Local 1120
We must guard against being fooled by false slogans, such as 'right to work.' It is a law to rob us of our civil rights and job rights.
Its purpose is to destroy labor unions and the freedom of collective bargaining by which unions have improved wages and working conditions of everyone…Wherever these laws have been passed, wages are lower, job opportunities are fewer and there are no civil rights. We do not intend to let them do this to us. We demand this fraud be stopped. Our weapon is our vote."
Martin Luther King
| | | |
| --- | --- | --- |
| | | |
| | | |
| | | |
HAPPY THANKSGIVING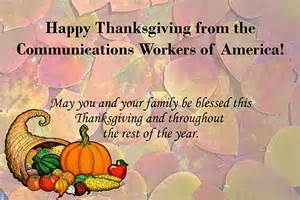 I want to wish my fellow CWA Members and their families a Happy Thanksgiving. Thanksgiving is a time to reflect. This year has seen its ups and downs, but this membership has persevered and won great victories. I want to thank you all for your tireless effort, trust, support and dedication through this incredible year.
WE ARE CWA. WE ARE FAMILY.
Frank J. Fauci Jr.
President CWA Local 1120
CWA 1120 QUARTERLY
MEETING
Monday November 21st at 6pm
NOVELLA'S
2 Terwilliger Lane
New Paltz NY
ELECTION DAY IS NOVEMBER 3rd. MAKE YOUR VOICE HEARD AND VOTE!!
These are the CWA Local 1120 endorsed candidates. Please support those Candidates who support us.
U.S. President- Hillary Clinton
U.S. Congress 19th District- Zephyr Teachout
NYS Senate 41st District- Terry Gipson
NYS Senate 39th District- Chris Eachus
NYS Senate 46th District- Sara Niccoli
NYS Assembly 105th District- Joe Torres
NYS Assembly 106th District- Didi Barrett
NYS Assembly 103rd District- Kevin Cahill
NYS Assembly 99th District- James Skoufis
NYS Assembly 100th District- Aileen Gunther
NYS Assembly 104th District-Frank Skartados
Ulster County Surrogate Court- Sara McGinty
Michael Jordan
The Executive Board of 1120 regrets to inform our members and retirees that former VP Mike Jordan has passed way. Our condolences go out to Mikes family and friends.
Services will be at Brooks Funeral
Home from 4pm to 8pm on Friday
September 30th with a Mass to
follow on Saturday. The Mass will
be held at St Patrick's Church at
11:30 in Newburgh. In lieu of
flowers donations can be made to
the New York Blood Center. More
information regarding the
reception and donations to follow...
CWA
QUARTERLY
LOCAL MEETING
THURSDAY
SEPTEMBER 22, 2016
6:00 P.M.
NOVELLA'S
2 Terwilliger Lane
New Paltz
Attached is a notice of a NY
surplus
declaration in 30 titles in FAA 1-6,and the supporting documents. This
surplus
is due to process change and it is the 1st surplus where the "Special EIPP" (Section XIV of the 2016 MOU) will be used.
Under the terms of the Special EIPP:
Each employee may only receive 1 offer per calendar year unless the employee moves to another title or to a different FAA(NY )/ ITA (NE)
For a period of 12 months following an employee leaving the payroll as a result of this offer, the Company cannot permanently force transfer or temporarily transfer employees into the job title in the FAA (NY) / ITA (NE) to which the employee who accepted the Special EIPP was assigned
Election to leave the Company with an
EIPP
offer must be submitted by September 21, 2016.
The off payroll date will be October 9, 2016, or possibly a later date, to be selected at the discretion of the Company, no later than April 9, 2017
CWA Members Approve New AT&T Mobility Contract
Washington, D.C. – AT&T Mobility workers across the country voted to ratify a new contract with the company covering health care and other benefits for 42,000 workers.
CWA District 1 Vice President Dennis Trainor said, "Our main goal was to put health care benefits bargaining back in the regional bargaining agreement process and to make health care affordable for all Mobility workers. This new contract reduces healthcare costs and will improve the standard of living for our members."
There are four separately negotiated Mobility contracts that now cover compensation and working conditions. An earlier agreement was voted down by the members last month, and continued negotiations resulted in the proposal that went to the membership for a ratification vote.
Among the highlights of the new agreement:
Reduced premium costs for 20,000 employees hired after 2014.
Employees with dependent children and no covered spouse will pay lower rates under a new 4-tier contribution structure.
Employees in Puerto Rico will be able to take advantage of popular HMO plans with much lower contribution rates.
A new "Option 2" plan will be introduced with lower premium costs.