| | | |
| --- | --- | --- |
| Welcome | | You are not currently logged in. |
Organize Today!

Looking for more information on Organizing your workplace?
Click Here
Know Your Weingarten Rights!
If an employee has a reasonable belief that discipline or other adverse consequences may result from what he or she says, the employee has the right to request union representation. Management is not required to inform the employee of his/her Weingarten rights; it is the employees responsibility to know and request.
"If this discussion can in any way lead to me being disciplined, I respectfully request union representation before I answer any questions"
Protect yourself! Learn it, use it!
A Message From The President
The Executive Board welcomes all Communications Workers of America, AFL,CIO Local 1120 members to our web page. The purpose of this web page is to provide a means of supplying information about our local and labor issues. To all cwa local 1120 members. I want to thank all of my fellow union brothers and sisters for their commitment, and determination in keeping our local strong. Together we can overcome any challenge that we may face.
Frank J. Fauci Jr.
President, CWA Local 1120
We must guard against being fooled by false slogans, such as 'right to work.' It is a law to rob us of our civil rights and job rights.
Its purpose is to destroy labor unions and the freedom of collective bargaining by which unions have improved wages and working conditions of everyone…Wherever these laws have been passed, wages are lower, job opportunities are fewer and there are no civil rights. We do not intend to let them do this to us. We demand this fraud be stopped. Our weapon is our vote."
Martin Luther King
| | | |
| --- | --- | --- |
| | | |
| | | |
| | | |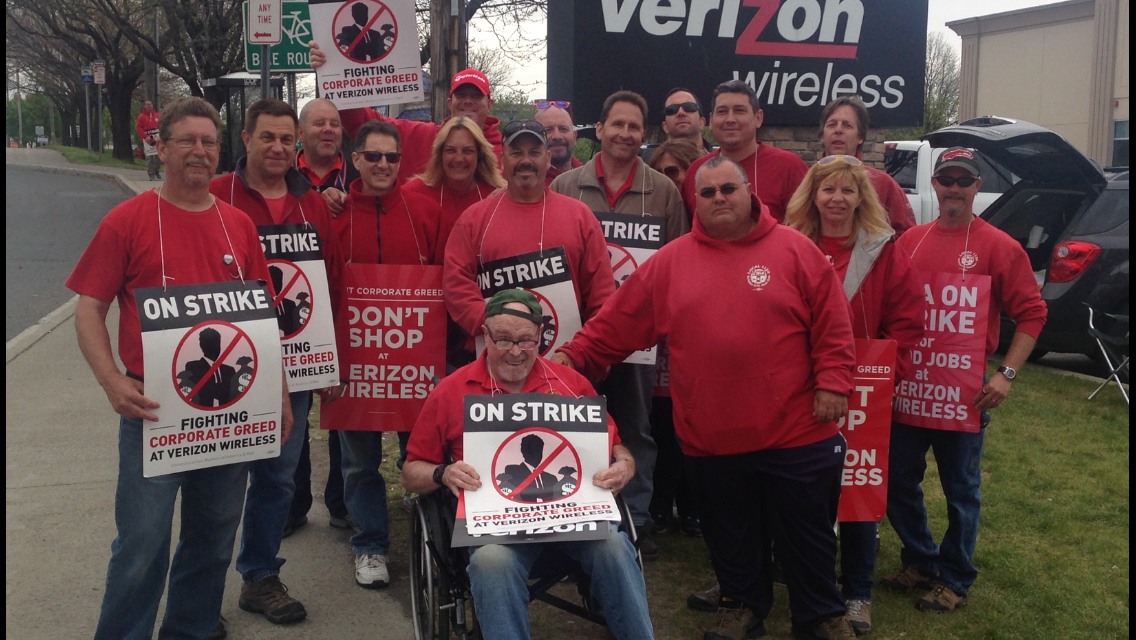 Statement by the Communications Workers of America on Negotiations with Verizon
Responding to Verizon's refusal to drop proposals that would hurt the families of nearly 40,000 striking workers, Dennis G. Trainor, Vice President, CWA District One and Ed Mooney, Vice President, CWA District 2-13, issued the following statement:
Verizon workers remain on strike and are standing strong on the picket lines. At negotiating sessions in Westchester and Philadelphia today, executives refused to back off of callous proposals that would hurt working families and destroy middle class jobs, including shipping jobs overseas and outsourcing work. The company also failed to budge on the issues facing Verizon Wireless workers. Verizon workers, customers and shareholders need the company to get serious about negotiations and building a stronger company.

Customer opinion of Verizon has hit a three-year low as Verizon executives refuse to settle a contract that would put skilled technicians and experienced customer service workers back on the job.

Customers are already tired of the wait times, unsafe work practices and poor service being provided by untrained management replacement workers.

Shareholders are going to feel the impact of a prolonged strike that executives could easily end, and they're already risking financial losses as Verizon breaks promises to local communities and fails to maintain lines in multiple states.

It's time for Verizon to set aside its obsession with short term profits and exorbitant salaries for a few executives. It's time for Verizon to start bargaining in good faith in order to preserve good middle-class jobs and ensure that customers receive the high quality service they deserve.

The union is currently considering its next steps in the bargaining process.
MEMORANDUM
to: CWA Local 1120 Members on strike
from: John Zeolla, Secretary/ Treasurer
subject: COBRA Request form- Identifying members in need
date: April 28, 2016
__________________________________________________________________
If any striking Member has a severe/ chronic medical issue with ongoing treatment, please fill the COBRA Request Form now and get it to your Community Services Committee Member A.S.A.P. The Community Services Committee in Local 1120 handles Member's Relief Fund issues such as medical issues during a strike. Although we have 60 days to elect for COBRA coverage, we want to get a head-start for our members most in need requiring extensive medical coverage. The Members of the Community Services Committee are as follows:
Debbie Smith- Cairo- 518-527-7913
Sean Giaco- Kingston- 914-489-9288
Marty Carmody- Fallsburg- Call Business Agent Robert Esposito 845-325-2501
John Archibald- Poughkeepsie- 845-891-6352
Billy Bloomer- Newburgh- 845-926-2674
Please answer all questions on the form and provide as much information as possible. You can attach any supporting documentation to the request form. Your Business Agents have been given paper copies of the form and is available on the Local's website.
After the paper work is submitted to the Local, it will be forwarded to the CWA District 1 Member's Relief Fund Director. A decision will be made to either pay the COBRA payment or pay the actual medical expense. The Member will be given specific direction of what to do.
Download:

COBRA Request Form (1).pdf
Regional Bargaining Report # 52
Thursday April 28, 2016
Today, Verizon presented what it described as its "last, best, and final offer" to your bargaining teams in Philadelphia and Westchester.
Unfortunately, their "last and best" was little more than the "same old bullshit."
Here's what they offered that was new: an additional 1% in wages, one year of corporate profit-sharing, and at last, they backed off at least part of their demand to be able to transfer workers for two months anywhere in the footprint. (They are however, still insisting on the right to transfer workers out of state for two months if the worker can commute home in the evening).
We of course welcome higher wages and these other changes. But what good is a wage increase if we cannot ensure that our jobs will be around a year or two from now?
The company's latest offer fails to address the union's commitment to preserve job security and good jobs for our members in our communities.
· There was no movement on the closing of call centers, which could lead to subcontracting and offshoring of our work.
· They barely budged on the issue of protecting our share of the call center work.
· They gave us an insulting proposal on contracting out plant work that does not return any contracted work to the bargaining unit, but might possibly slow down further contracting in the future.
· Preservation of the "job security letter" is still linked to declaring surpluses by organization and eliminating seniority protections for transfers.
· They are still looking to reduce our disability benefits.
· They are still proposing to freeze pension accruals at 30 years.
· There is still not one word about improving the wages, benefits and working conditions of Verizon Wireless retail store employees or a fair contract for the VZW techs.
Even before the company finished up this insulting presentation, it posted videos on its website designed to persuade our members that this was a reasonable offer and that we should end our strike.
Your bargaining committee was infuriated by this move in particular, and blasted the company for its arrogance and unwillingness after 10 months of bargaining to address the concerns of 39,000 CWA and IBEW members from Massachusetts to Virginia.
As usual, we are prepared to continue bargaining towards a fair contract. The company can call their proposals whatever they want: "last, best, final"; "first and worst"; "the greatest thing since sliced bread." Calling it the "last, best and final" is just a tired way of trying to intimidate our members into accepting a contract that we can't live with. It hasn't worked in the past, and it won't work now.
We will continue bargaining and striking until we get the contract that you deserve. The strike is incredibly effective. Picket lines are strong across the footprint. Business in Wireless stores has plummeted. The scabs are making mistakes right and left, endangering themselves and the public with their unsafe practices—two of them nearly electrocuted themselves cutting a LIPA electric line in Garden City yesterday, and others dropped a telephone pole on a customer's house in New Jersey—and they are failing to get any work accomplished. A restaurant in New Brunswickfeatured a sign in the window that their online reservations system has been down because Verizon couldn't fix their internet for 8 days, and that Verizon was being very unhelpful.
We are continuing to escalate the strike. We are spreading picketing at Wireless stores across the country. We are headed to the shareholders meeting in Albuquerque a week from today.
Meanwhile, your bargaining committee is working on next steps and will keep you posted on any new developments in bargaining. Stay strong, stay united, stay militant. We are winning.
TO: CWA Members on Strike Against Verizon
FROM: Dennis G. Trainor, Vice President District 1
Communications Workers of America, AFL-CIO
RE: VERIZON STRIKE: Continuing Medical Coverage While on Strike
There have been many questions raised related to continuing medical coverage during the strike. Here are some facts that will help answer those questions.
1. Verizon has announced that it is cancelling health benefits for striking workersbeginning May 1, 2016.
2. CWA has pledged that no striking member or family member will go without medically necessary health care during the strike. CWA will pay for all necessary medical/hospital expenses incurred on May 1, 2016 or later.
3. The term "necessary" does not include any treatment not normally covered under the Verizon Medical Plan, nor does it cover any elective procedures or dental work that can be postponed until after the strike. PLEASE CANCEL AND PLAN TO RESCHEDULE ANY WELL DOCTOR VISITS, ELECTIVE PROCEDURES AND DENTAL CLEANING/EXAMS THAT ARE SCHEDULED AFTER MAY 1, 2016.
4. All medical bills for which you are requesting payment should include the name of the patient, date of treatment, name of provider, service rendered and where the bill should be mailed.
5. In limited cases the CWA Fund Director for District 1 will authorize payment of COBRA premiums on behalf of strikers and their families, IF YOU OR A FAMILY MEMBER HAS A SERIOUS, CHRONIC MEDICAL CONDITION. TO APPLY, YOU SHOULD SPEAK IMMEDIATELY TO YOUR LOCAL MEMBER RELIEF FUND COORDINATOR AND REQUEST A "CWA REQUEST FOR COBRA PAYMENT" FORM. MAKE SURE THAT WHEN YOU FILL OUT THE FORM YOU INCLUDE ANY SUPPORTING MEDICAL DOCUMENTATION.
6. The Local will get the form to the CWA Fund Director for District 1 for review and determination.
7. If a member is approved for continuing medical coverage through COBRA, CWA will pay the required premium. The member will continue to be responsible for any copays, deductibles and coinsurance amounts applicable to the health plan.
8. STRIKERS WHO CAN OBTAIN HEALTH CARE COVERAGE THROUGH A SPOUSE OR PARENT DURING THE STRIKE SHOULD DO SO.
9. Members who were on company paid disability before the strike began and continue to be medically disabled will not have their insurance cancelled. Verizon will consider them to be disabled and will continue health insurance coverage.
10. Any person who was retired before the date of the strike will not have their retirement benefits or health insurance impacted at all.
Again, I must stress that no striker or striker's family member will be without necessary medical coverage during the strike. If you have any questions at all, please call your Local MRF Coordinator, our team will be working closely with them.
Thank you.
Download:

COBRA Request Form.pdf
Regional Bargaining Report # 51
Tuesday April 19, 2016
The CWA District 1/IBEW Local 2213 and IBEW New England Regional Committees met today at the Rye town Hilton.
We informed the Company bargaining committee members that Verizon CEO Lowell McAdam had been out to a few picket lines talking to striking members.
We advised them that McAdam made the following incorrect statements to our members:
1.
The stuff about taking job security away is "B.S."
2.
Medical benefits and wages are settled.
3.
Only DSL calls are being routed to the Philippines
At first the Company said that they heard that McAdam had been to picket lines but they were unfamiliar with what he actually said. (CEO goes to picket line, articulates company bargaining position to striking workers, but the company bargaining team is unaware of what he is saying?) Then they argued that what McAdam said didn't matter anyway because their proposal speaks for itself. (CEO's bargaining position doesn't matter; he's only the CEO). Since the Company had not seen the tape of the Syracuse encounter, we showed it to them so they could hear their CEO making these statements. The Company had no explanation to offer after viewing the tape.
We then had a heated discussion regarding transfers.
The Union gave examples that show that the company already has a great deal of flexibility on in-state transfers and that the Company routinely misuses that flexibility at the expense of our members. The Union pointed out that over the term of the last contract the Company permanently transferred thousands of workers and also temporarily transferred thousands more workers throughout New York State. When the Union asked the Company for information on the numbers of temporary transfers they told us that they don't keep track of that. (Verizon doesn't know where their employees are working - Really?)
We also discussed the Company's Article 8 proposal and the Company was unsure on how this proposal would affect their employees.
We asked the Company if they had anything to address our needs – they said No.
The Company has not moved off of any of their retrogressive proposals.
Sooner or later the company will get the message: Our members are united in the fight for good jobs. We are NOT backing down. If they didn't know it before yesterday, 8000 strikers and their allies marching in the streets of Manhattan should have convinced them. Yesterday was incredible—a terrific job done by all the locals. Many members are saying it was the best rally they could ever remember!
Picket lines are strong everywhere. We are hitting the Wireless stores hard. We are getting internal, reliable reports from Wireless stores that sales are plummeting. We are keeping customers out. Keep up the good work.
CWA and IBEW are showing the way for the country. As Bernie Sanders told 8500 supporters in Queens last night: "These men and women on strike at Verizon are fighting for every working person in America!" Keep up the great work!
CWA Local 1120 will be meeting outside Grand Central at 9A.M.