| | | |
| --- | --- | --- |
| Welcome | | You are not currently logged in. |
Organize Today!

Looking for more information on Organizing your workplace?
Click Here
Know Your Weingarten Rights!
If an employee has a reasonable belief that discipline or other adverse consequences may result from what he or she says, the employee has the right to request union representation. Management is not required to inform the employee of his/her Weingarten rights; it is the employees responsibility to know and request.
"If this discussion can in any way lead to me being disciplined, I respectfully request union representation before I answer any questions"
Protect yourself! Learn it, use it!
A Message From The President
The Executive Board welcomes all Communications Workers of America, AFL,CIO Local 1120 members to our web page. The purpose of this web page is to provide a means of supplying information about our local and labor issues. To all cwa local 1120 members. I want to thank all of my fellow union brothers and sisters for their commitment, and determination in keeping our local strong. Together we can overcome any challenge that we may face.
Frank J. Fauci Jr.
President, CWA Local 1120
We must guard against being fooled by false slogans, such as 'right to work.' It is a law to rob us of our civil rights and job rights.
Its purpose is to destroy labor unions and the freedom of collective bargaining by which unions have improved wages and working conditions of everyone…Wherever these laws have been passed, wages are lower, job opportunities are fewer and there are no civil rights. We do not intend to let them do this to us. We demand this fraud be stopped. Our weapon is our vote."
Martin Luther King
| | | |
| --- | --- | --- |
| | | |
| | | |
| | | |
Regional Bargaining Report # 45
Thursday January 21, 2016
CWA District 1/IBEW Local 2213 and IBEW New England Regional Committees met this week at the Rye Town Hilton in Westchester. In our last bargaining report we informed you that after high level discussions between the Union and the Company during the last few weeks the Union bargaining committee gave the Company a proposal which addressed both parties' needs.
This week the Company rejected the Unions proposal and gave another unacceptable proposal to the Union.
We have made meaningful proposals yet the Company has rejected every one of our proposals saying they don't go far enough to meet their needs. At the same time, almost every proposal the Union has placed on the table has been rejected by the Company.
We are reviewing the Company's proposal and planning our next steps. In the meantime, we need every member to get engaged. The Company is still not hearing us so it is more important than ever that we take this fight to a new level.
Tell Verizon management that we demand a fair contract and let them know that we are ready to STRIKE to get one!
Mobilize! Mobilize! Mobilize!
Regional Bargaining Report # 44
Saturday January 16, 2016
CWA District 1/IBEW Local 2213 and IBEW New England Regional Committees met this week at the Rye Town Hilton in Westchester. After high level discussions between the Union and the Company during the last few weeks the Union bargaining committee worked all week to develop a proposal that addressed both parties' needs which we presented to the Company late Friday afternoon.
The Union and the Company are scheduled to meet again on Tuesday January 19, 2016.
We are ready to do whatever it takes to get a fair contract!
Members should continue to send the message to Verizon that their retrogressive demands are not acceptable. Do this by participating in Mobilization actions. Whether you are a current employee or a retiree, we need you to be involved.
It's time for every member and every retiree to pledge to spend at least 2 hours per week participating in off the job mobilization activities.
Call your local or talk to your steward and find out what you can do to help.
Mobilize! Mobilize! Mobilize!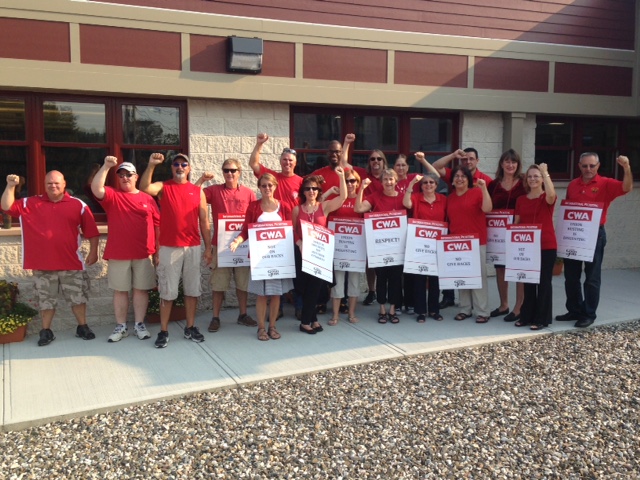 Monroe Free Library Unanimously Ratified Their First Contract
CWA Local 1120's newest members of the Monroe Free Library unanimously ratified their first contract yesterday. They were able to accomplish this by sticking together, mobilizing and by not giving up.
The contract includes:
100% paid medical coverage of a gold plan for individuals
Medical insurance buyout
2% raise with a 1% bonus retro to January 1, 2015
1.5% raise every 6 months until December 31, 2017
Longevity bonuses
11 1/2 paid holidays
paid sick time for part and full time employees
paid personal time for part and full time employees
up to 6 weeks paid vacation
50% match of 10% employee contribution for 401k
Grievance and Arbitration
Call in pay
Congratulations to all the 1120 members at the Monroe Free Library and thank you to the bargaining team for their hard work. Local 1120 is proud to have such a strong group of members.

CWA Local 1120
Meeting
Tuesday Jan 19th,
6pm
SPECIAL GUEST
CWA STAFF REP. MIKE GARRY
101 State (U.S.) Route 208

,

New Paltz

,

NY

12561

United States
HAPPY HOLIDAY
FROM CWA 1120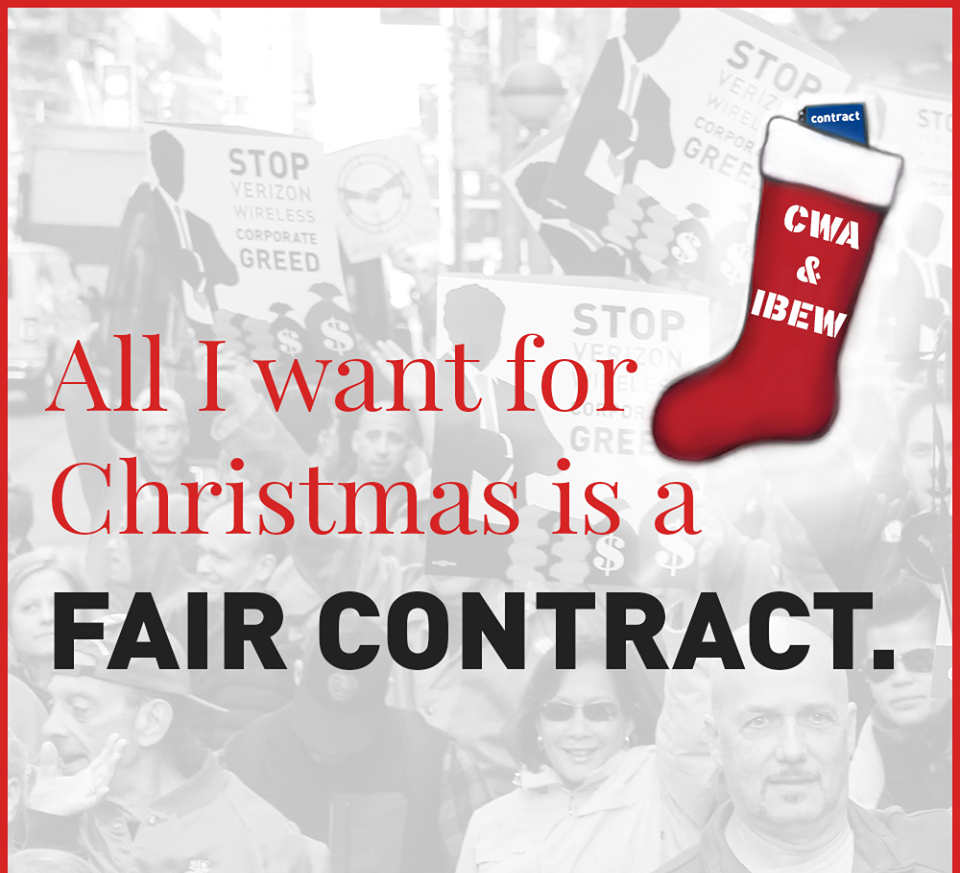 AN URGENT MESSAGE FROM YOUR PRESIDENT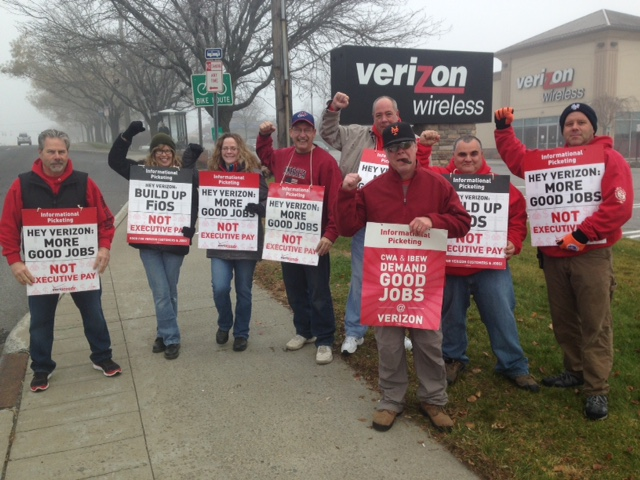 December 7, 2015
For the past two weeks, CWA has been at the table with Verizon, aggressively bargaining with this greedy corporation in a good faith effort to get a contract. CWA has continually moved on their proposals. Verizon, on the other hand has refused to reciprocate. There has been literally little or no movement from the company off their egregious demands.
They want everything! Your pension, accident disability, sickness disability, job security and increased medical premiums to name a few. They also want the ability to contract out your work!
I am asking each and every member to tell your supervisor now that "You want Verizon to get to the table and starting bargaining". Don't wait for anyone else to do it. Do it for yourself. This is getting real serious, real fast. We will not bargain like this. CWA will have no choice but to strike!
Mobilization activities need to be brought to the next level. If you have not volunteered, do it NOW! We all need to do everything we can while we are still getting paid, to avoid doing it while we are not! EVERY MEMBER CONTACT YOUR STEWARD IMMEDIATELY AND ASK THEM WHAT YOU CAN DO TO HELP!
In Solidarity,
Frank J Fauci Jr.
President, CWA Local 1120