| | | |
| --- | --- | --- |
| Welcome | | You are not currently logged in. |
Organize Today!

Looking for more information on Organizing your workplace?
Click Here
Know Your Weingarten Rights!
If an employee has a reasonable belief that discipline or other adverse consequences may result from what he or she says, the employee has the right to request union representation. Management is not required to inform the employee of his/her Weingarten rights; it is the employees responsibility to know and request.
"If this discussion can in any way lead to me being disciplined, I respectfully request union representation before I answer any questions"
Protect yourself! Learn it, use it!
A Message From The President
The Executive Board welcomes all Communications Workers of America, AFL,CIO Local 1120 members to our web page. The purpose of this web page is to provide a means of supplying information about our local and labor issues. To all cwa local 1120 members. I want to thank all of my fellow union brothers and sisters for their commitment, and determination in keeping our local strong. Together we can overcome any challenge that we may face.
Frank J. Fauci Jr.
President, CWA Local 1120
We must guard against being fooled by false slogans, such as 'right to work.' It is a law to rob us of our civil rights and job rights.
Its purpose is to destroy labor unions and the freedom of collective bargaining by which unions have improved wages and working conditions of everyone…Wherever these laws have been passed, wages are lower, job opportunities are fewer and there are no civil rights. We do not intend to let them do this to us. We demand this fraud be stopped. Our weapon is our vote."
Martin Luther King
| | | |
| --- | --- | --- |
| | | |
| | | |
| | | |
Regional Bargaining Report # 36
Wednesday, October 7, 2015
CWA District 1/IBEW Local 2213 and IBEW New England Regional Committees met this week at the Rye Town Hilton in Westchester.
The Company passed modified proposals on Family Care Leave, Tuition Assistance Plan and Corporate Profit Sharing.
As you know, the Company proposed to eliminate the Family Care Leave (FCL) entirely. The modified proposal would eliminate the FCL for new hires and employees who have used 24 months of FCL throughout their career. For all other employees, the FCL provisions would be drastically reduced from what they have been since 1990.
The Company made a slight move on Tuition Assistance Plan (TAP) by moving a particular field of study from an excluded study list to a limited study list.
The Company eliminated the risk of not receiving a CPS award for 2015 (payable in 2016), however the risk of not paying the CPS for years 2016 and 2017remains.
Don't be fooled by the small moves that the Company has made. All of the retrogressive demands that the Company proposed in June still remain on their agenda!
It is more important than ever that our members continue to Mobilize and that every member commit to spending at least 2 hours per week participating in off the job mobilization activities.
Call your local or talk to your steward and find out what you can do to help.
IT'S TIME TO FIGHT BACK!
NOW MORE THAN EVER WE NEED TO MOBILIZE!
Mobilize! Mobilize! Mobilize!
Regional Bargaining Report # 35
Monday, September 28, 2015
CWA District 1/IBEW Local 2213 and IBEW New England Regional Committees met today at the Rye Town Hilton in Westchester.
The Company presented a comprehensive proposal today which contained minimal movement on deductibles and out of pocket maximum amounts in their retrogressive health care proposal. This proposal would still drastically increase deductibles and out of pocket maximum amounts. For plans where there is currently a deductible, participants with a family plan could see an increase of more than 150%. In the Health Care Network, where the current deductible is $0 for in-network benefits, the Company is proposing a family plan deductible of up to $1,650. The proposal for the out of pocket maximum for family plans shows an increase of almost 100% by the end of the contract!
In the Union's last proposal we made modifications to our call share proposal. Unfortunately, after all of the off record conversations regarding call sharing the Company has yet to move off of their initial proposal from June 22nd,while the Union has made two counter proposals on this subject.
Everyone needs to remember that we are fighting for fair contracts at Verizon and Verizon Wireless.
We need to ramp up our mobilization. We need to keep the pressure on Verizon and to continue to get our message out. We need all members to handbill at the Verizon Wireless Stores. If you have not already volunteered to handbill at a store location please contact your steward or local and sign up. By everyone working together from the bargaining tables, to handbilling the store locations, to mobilization on the job we will stand strong against Verizon's attempt to strip our contracts.
Stay Strong – Stay United
Mobilize! Mobilize! Mobilize
Regional Bargaining Report # 33
Thursday, September 17, 2015
CWA District 1/IBEW Local 2213 and IBEW New England Regional Committees spent Wednesday and Thursday at the Rye Town Hilton in Westchester.
Off-the-record discussions continued this week with Verizon on call sharing and job security issues. The Company's goals remain the same. They want givebacks, plain and simple.
On the town hall call that was held earlier this week Vice President Trainor reminded us of some of the outrageous proposals that the Company still has on the table, which are:
JOB SECURITY- Remove the protections against layoffs and forced transfer.
NO COLA
CORPORATE PROFIT SHARING at risk if not settled by certain date. Also, reduce minimum payout.
DIFFERENTIALS AND PREMIUM PAY -Eliminate Saturday and Sunday Differentials and premium pay for most employees. Reductions to differentials for most employees.
SUNDAY TOURS- Include Sunday as part of basic work week.
OVERTIME – only paid after 40 hours worked. No payment of more than one and half time (1 ½ X). Also, eliminate caps on Overtime.
TECH CHANGE NOTICE- reduce notice given to the Union of any major technological change
BENEFITS- the Company proposed major reductions in medical benefits including higher deductibles, co-pays, premiums and co-insurance. The Company also proposed to remove the Unions ability to negotiate retiree health care benefits. Eliminate Class II/Sponsored Child coverage.
PENSIONS- The Company modified their proposal on lump sum pensions but proposed changing the terms of the lump sum payment to eliminate the calculations that included the GATT rate and PBGC rate. They propose using a formula which would result in a significant reduction in the amount of member's lump sum pensions. They are still demanding that employees would have to choose between a pension which would be frozen and an enhanced 401K. If you choose Pension – No 401K match. If you choose 401K enhanced (100%)-Your Pension freezes.
401K Plan changes- begin charging a quarterly administration and a $50 fee for processing new loans.
DISABILITY BENEFITS- Eliminate Accident Disability Plan. Establish a rolling 5 year period for 100% payment on Sickness Disability. Once 100% is used – members are paid 50% (currently full pay benefits recycle after being back at work for 13 weeks)
CALL SHARING- give the Company additional leeway to route calls out of our bargaining units and to contractors while giving contractors the handling of all new products and services.
TEMPORARY ASSIGNMENTS– Ability to transfer employees to any state in Verizon footprint.
TUITION ASSISTANCE- Expanding the list of "Excluded" studies
FORCE ADJUSTMENT PLAN- changes to the FAP that would eliminate job security provisions.
WORK FAMILY- Reduce funding by $900,000. Added limitations if not agreed to by a certain date.
FAMILY CARE LEAVE- eliminate
EXCISE TAX- Company wants ability to change medical plans, health care spending account or premiums to avoid excise tax without negotiating with the Union.
PRE TEST TRAINING - Eliminate
INCOME PROTECTION PLAN - Would require employees to sign a Disclaimer to receive an IPP.
We need to send a very clear message that this is not acceptable. We will not be laid-back as they seek to gut our contracts.
Active members and Retired members all have a stake in this fight. If you're not yet involved -it's time to get involved. The only way to move this company is to put enough pressure on them to make them want to settle this contract.
There are on the job mobilization activities and there off of the job mobilization activities that every member and every retiree should be participating in.
MOBILIZE,
MOBILIZE,
CWA PRIMARY ENDORSEMENTS
PLEASE COME OUT ON PRIMARY DAY SEPTEMBER 10TH AND SUPPORT THE CANDIDATES THAT SUPPORT CWA
GENE BENSON
SULLIVAN COUNTY LEG - DIST 17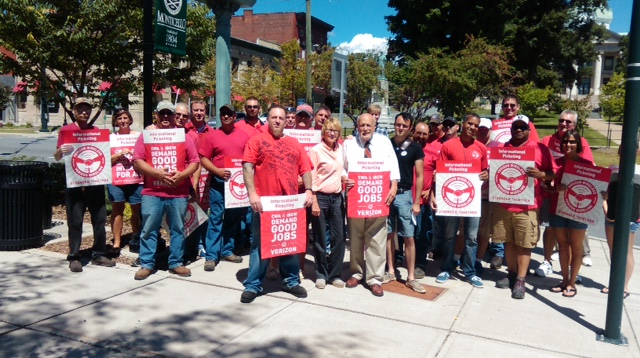 KARI RIESER
DUTCHESS COUNTY LEG - DIST 9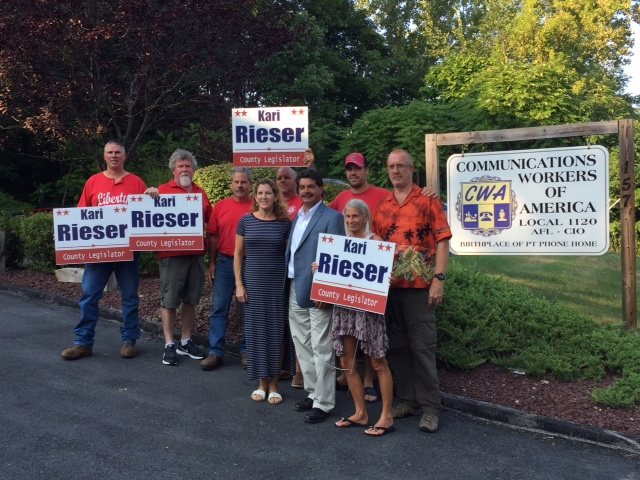 SHAYNE GALLO
KINGSTON MAYOR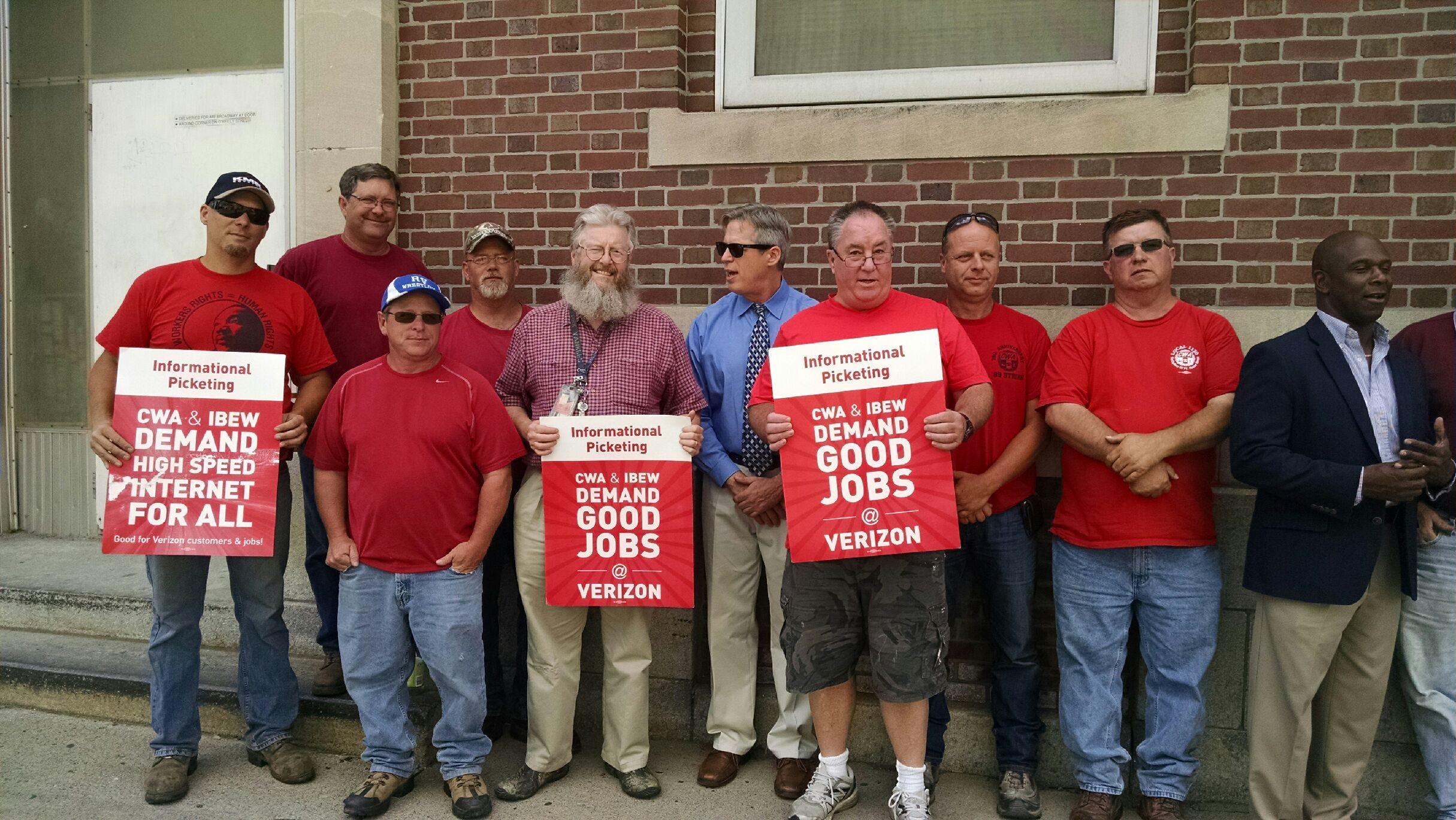 CWA LOCAL 1120 QUARTERLY MEETING
THURSDAY SEPTEMBER 17, 2015 6:00PM
ITALIAN CENTER
MILL ST. POUGHKEEPSIE, NY
Effective September 1, 2015 the Work/Family Dependent Care Reimbursement Fund will be suspended because we do not have a new collective bargaining agreement. Members who participate in the fund will be notified through e mail from Beverly Steele, the fund administrator. Read More...