| | | |
| --- | --- | --- |
| Welcome | | You are not currently logged in. |
Organize Today!

Looking for more information on Organizing your workplace?
Click Here
Know Your Weingarten Rights!
If an employee has a reasonable belief that discipline or other adverse consequences may result from what he or she says, the employee has the right to request union representation. Management is not required to inform the employee of his/her Weingarten rights; it is the employees responsibility to know and request.
"If this discussion can in any way lead to me being disciplined, I respectfully request union representation before I answer any questions"
Protect yourself! Learn it, use it!
A Message From The President
The Executive Board welcomes all Communications Workers of America, AFL,CIO Local 1120 members to our web page. The purpose of this web page is to provide a means of supplying information about our local and labor issues. To all cwa local 1120 members. I want to thank all of my fellow union brothers and sisters for their commitment, and determination in keeping our local strong. Together we can overcome any challenge that we may face.
Frank J. Fauci Jr.
President, CWA Local 1120
We must guard against being fooled by false slogans, such as 'right to work.' It is a law to rob us of our civil rights and job rights.
Its purpose is to destroy labor unions and the freedom of collective bargaining by which unions have improved wages and working conditions of everyone…Wherever these laws have been passed, wages are lower, job opportunities are fewer and there are no civil rights. We do not intend to let them do this to us. We demand this fraud be stopped. Our weapon is our vote."
Martin Luther King
| | | |
| --- | --- | --- |
| | | |
| | | |
| | | |
​For release August 10, 2018
Contact: Beth Allen (ballen@cwa-union.org) or Amy Fetherolf (afetherolf@cwa-union.org), CWA Communications, 202-434-1168
Workers Ratify New Four-Year Deal With Verizon
Agreement Includes 11.2% Wage Increases and Stronger Retirement Benefits
Verizon workers represented by the Communications Workers of America (CWA) in the Northeast and Mid-Atlantic regions and at Verizon Connected Solutions voted to ratify a four year extension of their current contracts, which were set to expire in August 2019.
The extensions provide for additional wage increases and enhanced retirement benefits. The agreement, which extends the contracts through August 5, 2023, will deliver an 11.2% wage increase over the additional four years and covers over 34,000 Verizon workers, including call center workers, and central office and field technicians.
"This agreement builds on the success of the 2016 strike, and it will ensure a better future and good, family-supporting jobs for thousands of Verizon workers," said CWA District 1 Vice President Dennis Trainor. "This agreement reflects the more constructive relationship between CWA and Verizon that has developed since the strike. "
Separate agreements were ratified covering 40 Verizon Wireless retail workers in Brooklyn and 7 workers in Hazleton, Pa., who voted last month to join CWA. The Brooklyn agreement provides for a $900 signing bonus for Brooklyn Wireless employees, creates a first-ever floor for the merit pay pool, creates a new Labor-Management committee to address further improvements in scheduling, and strengthens the grievance procedure. Additionally, about 90 Verizon Wireless technicians will receive the 11.2% compounded wage increases over the term of the extension and will have improved language regarding transfers by seniority.
"We saw the early negotiations with Verizon as an opportunity to make improvements for our members while avoiding the lengthy conflict we experienced two years ago. This is a solid contract for Verizon workers that will improve wages and raise the living standards of our members across the region." said Ed Mooney, Vice President for CWA District 2-13, which covers Pennsylvania to Virginia.
By mutual agreement, negotiations on the contract extension were limited to wages and benefits and the length of the new agreement. The wins for Verizon workers come amid a wave of worker actions to raise wages, improve working conditions, and hold corporations accountable. Like the successful teacher strikes this spring, Verizon's willingness to come to the table early and agree to this contract is yet another testament to the power of working people standing together.
###
About CWA: The Communications Workers of America represents 700,000 working men and women in telecommunications, customer service, media, airlines, public service and manufacturing.
cwa-union.org @cwaunion
CWA 1120
VZ RATIFICATION
VOTE AND
MEETING
Tuesday
August 7th, 2018 at 6pm
NOVELLA'S
2 Terwilliger Lane
New Paltz NY
CWA, IBEW and Verizon have reached an agreement in principle to extend the collective bargaining agreements for a four-year period. The current agreements are set to expire on August 3, 2019. If finalized, the agreements will extend through August 5, 2023. The company and the unions are documenting the understanding in signed contracts and expect to have that completed this week, at which time we will communicate further details.
The contracts will be subject to ratification by union members. We will keep you posted.
As you already know,
CWA

,

IBEW

and
Verizon began meeting for a two-week period to attempt to negotiate the terms of a possible extension to the collective bargaining agreements that are set to expire in August 2019. We have agreed with the Company to extend the negotiations for a few additional days after the holiday. Meetings are expected to resume in the middle of next week.
We will provide additional updates as appropriate.
Hope you all have a happy and safe holiday.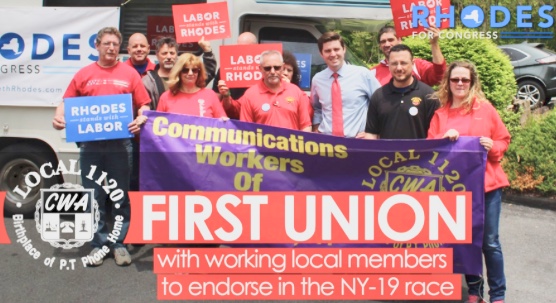 For too long, working men and women in this country have had no voice in Congress. We have been left behind. That's why today, as President of the Communication Workers of America Local 1120, I was proud to stand with members and endorse Gareth Rhodes to take on John Faso this November.

Gareth's working class and deep local roots, record of public service and government experience, and shoe-leather approach to campaigning make him the most electable candidate. And we know Gareth will be the voice for hard working families in the Hudson Valley and beyond and will be our champion in Washington. Will you stand with CWA and support Gareth Rhodes for Congress?

Gareth is a blue collar candidate. He knows what it means to give your blood, sweat and tears to a job. He knows the real life struggles of the American Worker. And we KNOW he has our back. That's why CWA 1120 is proud to support Gareth Rhodes for Congress.

As the first union with local members working in NY-19 to endorse a candidate in this race, CWA Local 1120 truly believes Gareth is the bold voice needed to bring the concerns of working people to Congress. He is the candidate that best represents organized labor and can win.

We're behind him. I hope you are too.

Frank J. Fauci Jr.
President, CWA Local 1120
TO: Verizon Local Presidents
FROM: Dennis G. Trainor, Vice President - District One
DATE: May 18, 2018
As you know, our current collective bargaining agreement with Verizon does not expire until August, 2019, a little less than 15 months from now.
However, Verizon, CWA and IBEW are jointly announcing today that we will be entering into two weeks of bargaining beginning June 18, 2018 to determine whether it is possible to agree on the terms of a contract extension.
This development reflects an improved relationship with the company since the conclusion of our strike just about two years ago. We will keep you posted on further developments